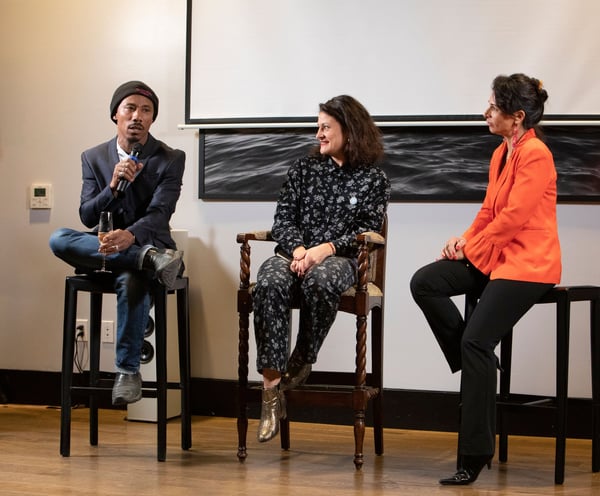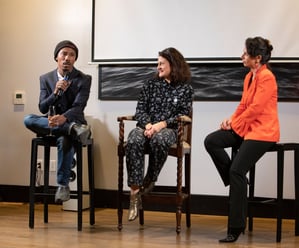 A dual perspective on urban renewal and our food systems
Architect, Bellastock
Villa Albertine SF artist-in-residence 2023
Founder of The 280 Project
Winemaker on public land in San Francisco
Mathilde is a French architect who works for BellaStock, a collective which has come up with best practices to upcycle building materials. They published a manual to teach architects and general contractors how to deconstruct buildings in such a way that as little as possible goes to waste and is repurposed into plans and next-gen construction.

Similarly, Christopher's project also illustrates urban renewal from the perspective of food production and access. The 280 Projet is a powerful example of repurposing a public park as a fully functioning vineyard, permaculture learning center and urban garden that benefits local communities, in an area known as a "food desert"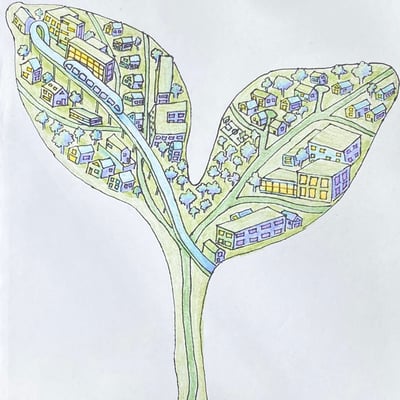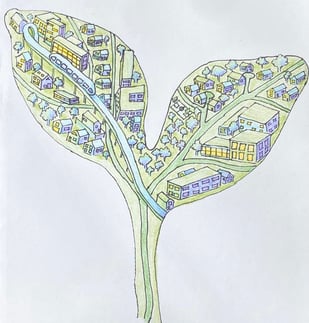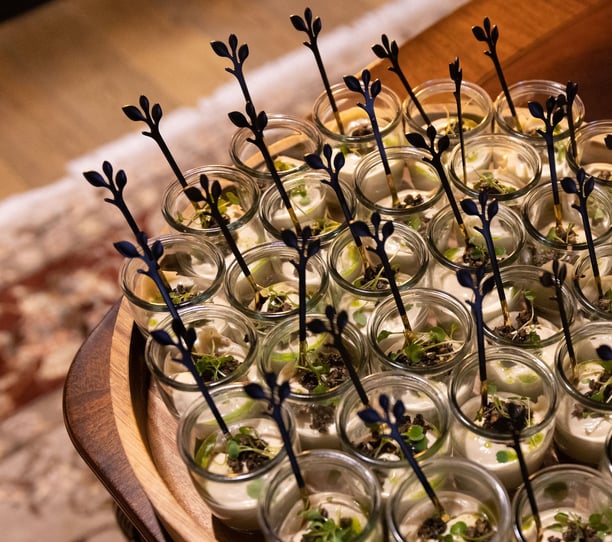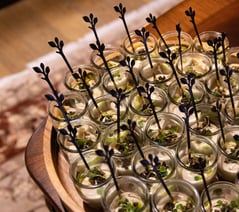 PrimeRoots vegan foie gras, served with kumquat gastrique, on brioche toast, and seaweed salt
Chevre de monsieur Dorsey
Penny Royal Farm goat cheese custard, medley of caramelized onions and mushrooms, topped with microgreens
Sablés with nori, and hemp hearts
3 mini colorful madeleines: classic, grass, and nut-brown
Orange-pistachio daily supplement by Rootless
by Pastry Chef Christine Clement Shurma
Scroll down to find out more about the why behind the menu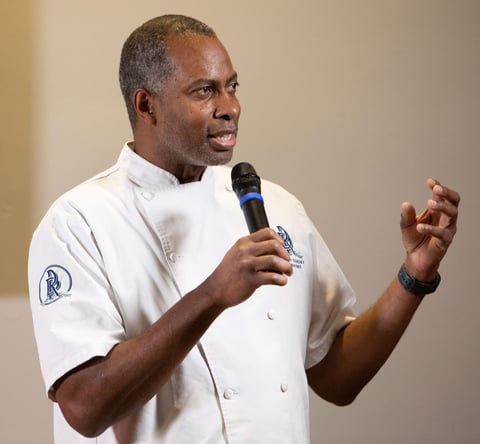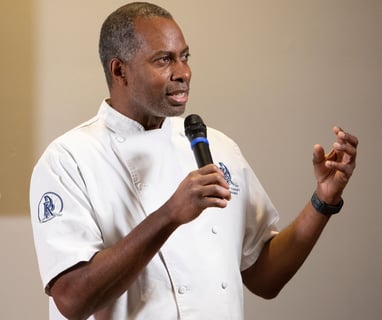 Oakland-based private chef and caterer
Here chef Dorsey played with the idea of urban renewal and added a French twist for the Launch of Villa Albertine's 2023 programming.

He presented subtle but powerful variations on known foods like foie gras and fresh goat cheese.

The familiar tastes invited the guests to question the seemingly-obvious dishes, and gently take them out of their comfort zone - while enjoying delicious hors d'oeuvres.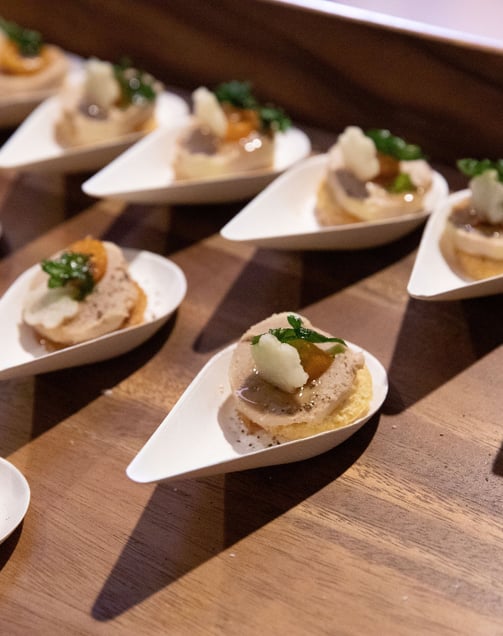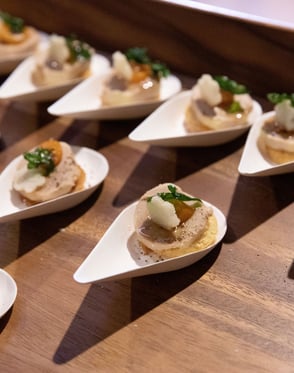 Chevre de monsieur Dorsey
Penny Royal Farms fresh goat cheese custard

Sablés with nori and hemp hearts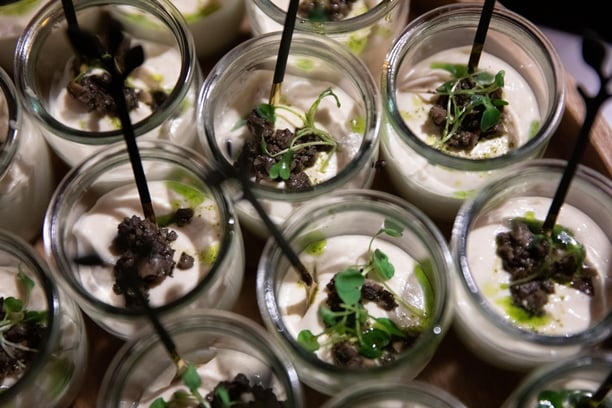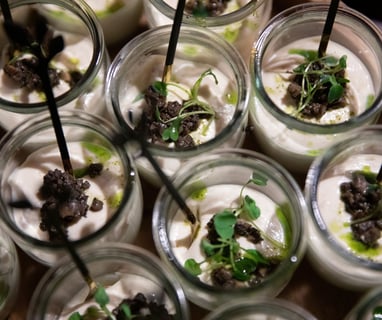 Served with
Kumquat gastrique: Winter in California is citrus season, and kumquat is a seldom used citrus with intense flavor. Its bitterness elevates the sweetness of the foie gras.

Home-made brioche for a traditional way to enjoy foie gras

Seaweed salt from North Bay
Where can I buy it?
Currently only available in NorCal at these locations
Why is is special? It's made from koji*!

Koji is a remarquable fermentation technique - a very fast growing fungi! Used commonly for thousands of years in Asia, koji is a source of fungal enzymes, which digest proteins, carbohydrates, and lipids into nutrients that are used by other microorganisms in subsequent fermentations. The production of soy sauce, miso, and sake involves koji fermentation.

Koji has remarkable health properties for our gut thanks to its probiotics.
Pennyroyal Farm is committed to sustainability and modern farming practices. It was conceived as a minimum-waste farm and takes into consideration sustainable design—from constructing solar panels on the barn to ensuring the size of herd would produce enough manure to be converted into compost for fertilizing the vineyards. Leading the vision for the next generation, Sarah Cahn Bennett sees the vineyard, dairy farming, poultry, egg, fiber, fodder, wine, and other food production as essential to the long term health of farmland.

Each cheese is made in a small batch with milk from our own goats and sheep. This allows us to keep a close eye on every ingredient and step in the process and produce handmade cheese that taste of a special time and place. Farmstead cheese is even more select than artisan cheese.
Served with:
Caramelized shallots and mushrooms: seasonal and local vegetables, nice balance of sweetness and umami.

Topped with microgreens for high micronutrients and vitamins content. And it adds color and texture contrast with the butter-yellow custard.
Why is it special? Penny Royal Farm is a magnificent example of regenerative agriculture*.

Laychee cheese is hard to come by at this season: it was sourced from worker-owned cooperative in Berkeley, The Cheeseboard.

Production will return in the spring with the arrival of this year's goats and kids and their milking parlor will be flowing with abundance.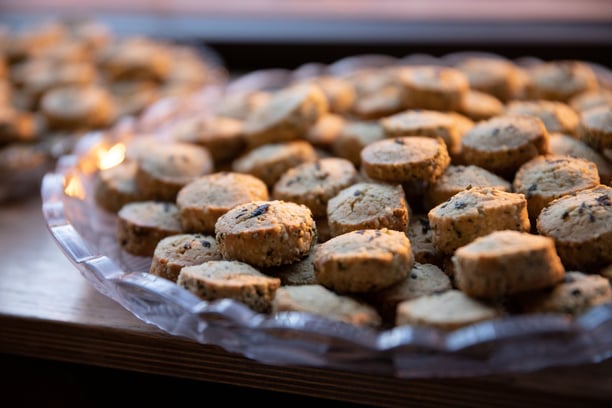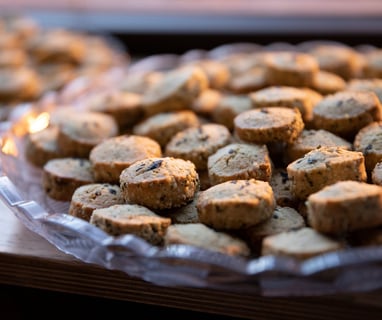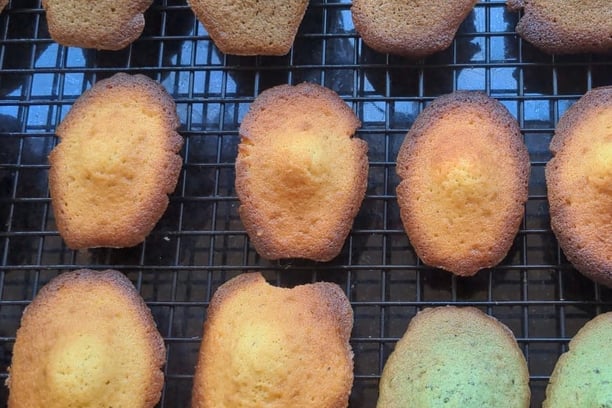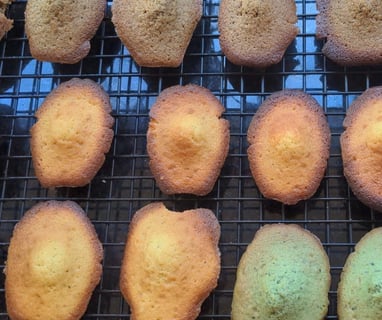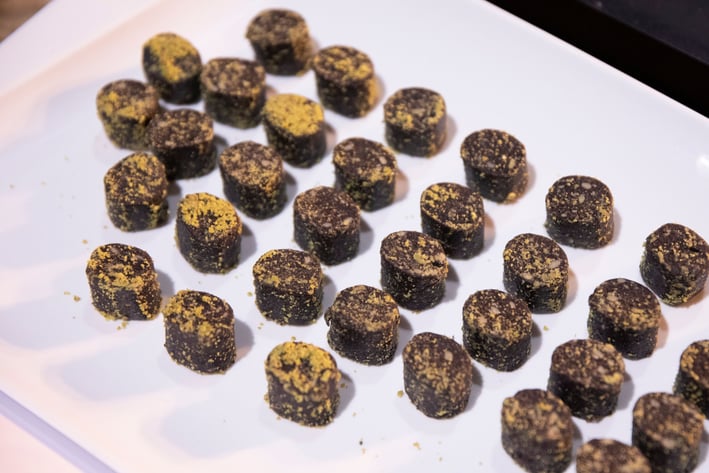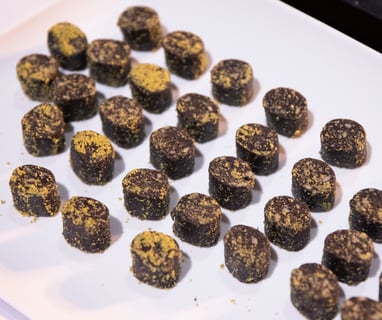 Why is it special? Reinventing a traditional sablé (butter cookies) recipe by incorporating seaweed and hemp seeds.

Hemp is a magical soil health replenisher. Within 3 years, a sad, depleted soil can come back to fully alive, carbon-capturing and healthy.

Playing with the idea of a round cookie the size of a sushi, the chef added the hemp hearts as another regen superfood.
Why is it special?
A Madeleine de Proust is a common expression in French, in reference to a famous passage in Swann's Way.

It describes how a familiar taste can transport us back immediately into cherished memories.

For the full literary reference, please see this example.

What is the intention?

Along the lines of the seemingly familiar yet surprising, chef Christine experimented with different flours and ingredients to add a regen twist to the common cakebite. She decided to offer 3 decidedly distinct options to delight each palate.

A symbolic take-home gift, it is meant to be shared with loved ones and make the event last a little beyond the moment.
Special edition "Madeleines de Proust"
for Villa Albertine SF launch
3 colors, 3 taste profiles

Classic: the traditional madeleine, egg/butter/flower with a little vanilla. The test "control".
Grass: modified classic recipe with spirulina and fresh lime zest.
Spirulina is a superfood and a fast-growing seaweed easily employed in smoothies and baking.
Lime is a good source of vitamin C and provides the tingy acidity to balance out the sweetness of the cake.

Nut brown: modified classic recipe with buckwheat flour, coconut flour, and pineapple juice.
Buckwheat is a highly nutritious whole grain, packed with proteins and gluten free.
Coconut flour is also high in fiber and a good source of protein.
Pineapple is a natural antioxidant and a good source of vitamin C.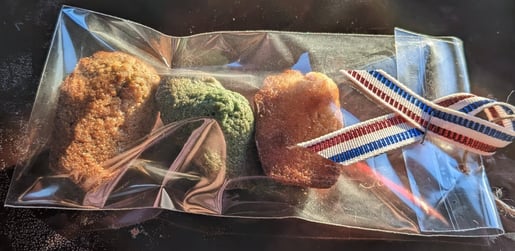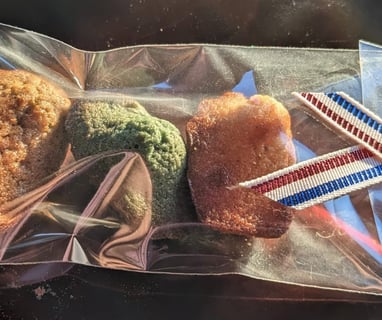 Orange pistachio seaweed daily supplement
Why is it special?
Rootless is a new kind of superfood, in between an indulgent treat and a multi-vitamin, that supports the wellness of our bodies and of the planet.

Made entirely of natural ingredients, these daily bites are a potent and easy way to get a raw, vegan, antioxidant superfood boost.
Where can I buy it?
You can order here
Rootless is a new whole health company focused on bringing sustainably sourced seaweed – one of the world's most nutrient dense and diverse foods – into your daily life. Our hero product is the Daily Bite, a whole food nutrition bite that delivers all the benefits of seaweed in delicious, daily form. Each bite delivers 60% of your daily Iodine needs, and has over 40 vitamins, minerals, bioactives and macronutrients that boost energy and metabolism while supporting gut health. We ship directly to you and offer a monthly subscription to make it easy to create a healthy habit.

By helping people access the astounding benefits of seaweed, we are also building a global seaweed economy that can help regenerate the health of our oceans and climate, as well as the economic livelihoods of coastal communities. It's this ecosystem of goodness that makes us believe that the timeless power of seaweed is the key to our brightest future.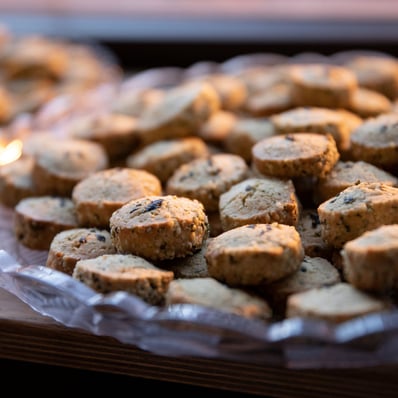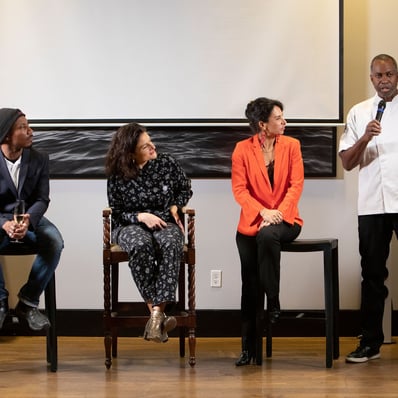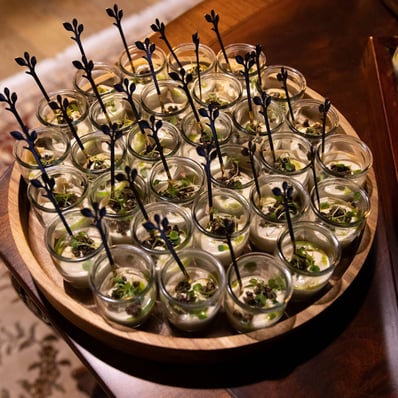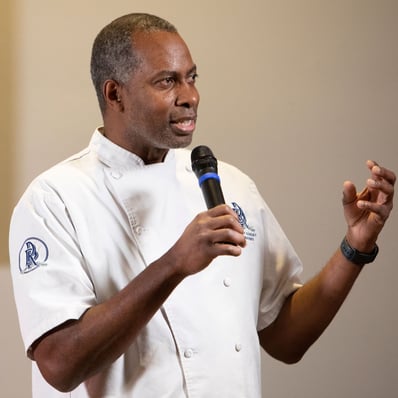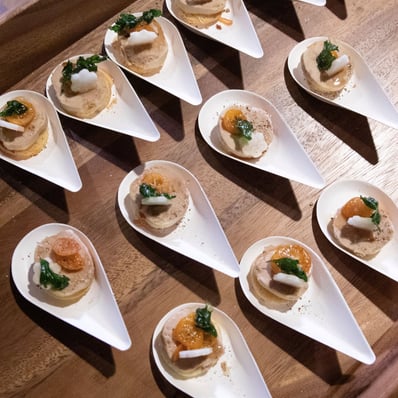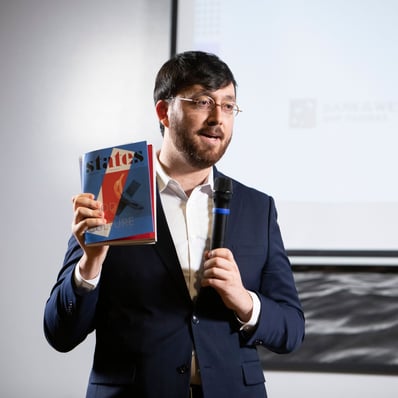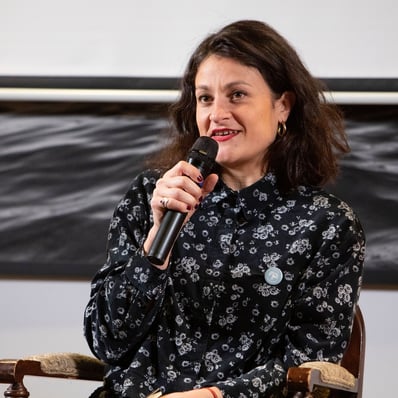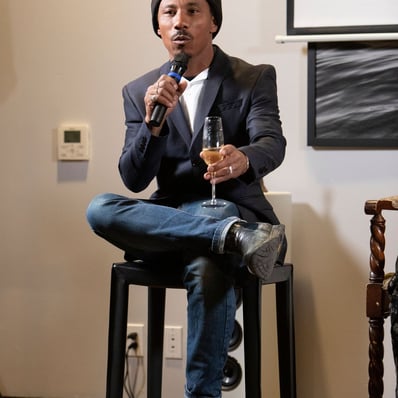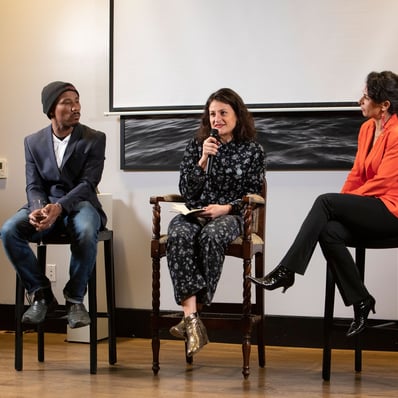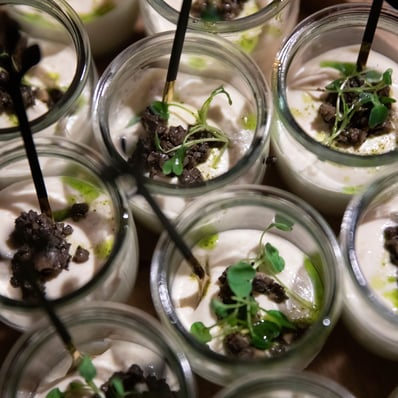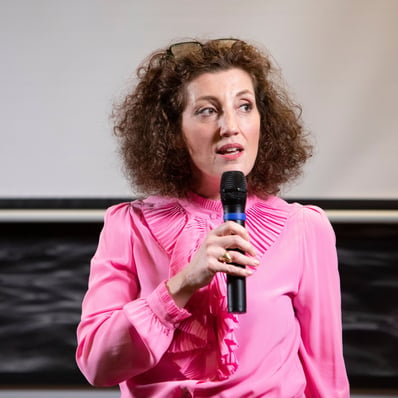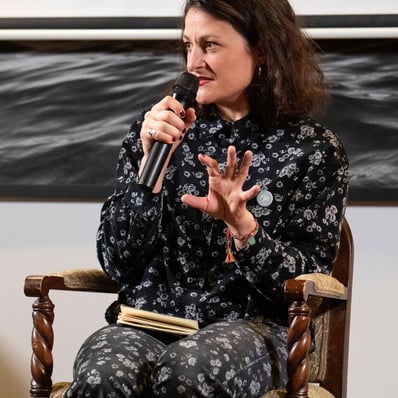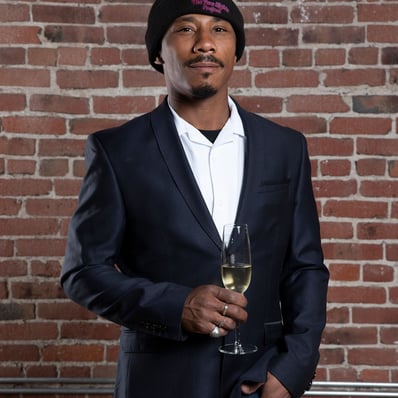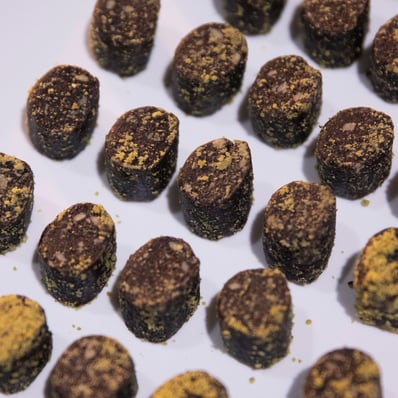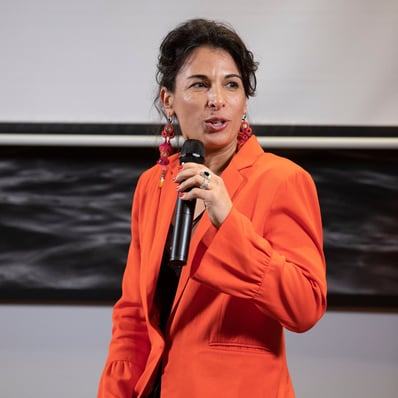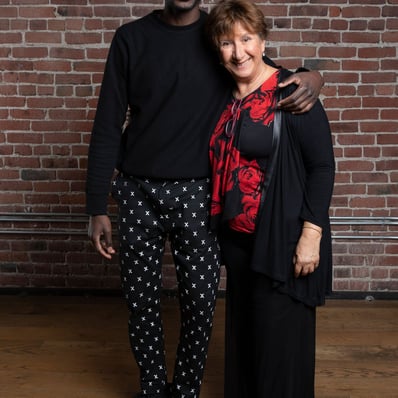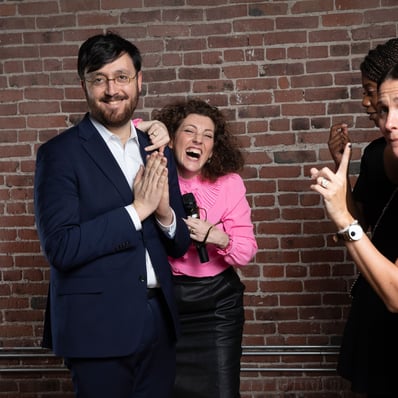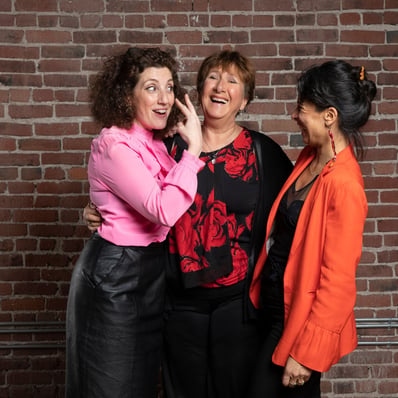 Photo credits: Lydia Daniller
Still have more questions?
Don't be shy, ask away!